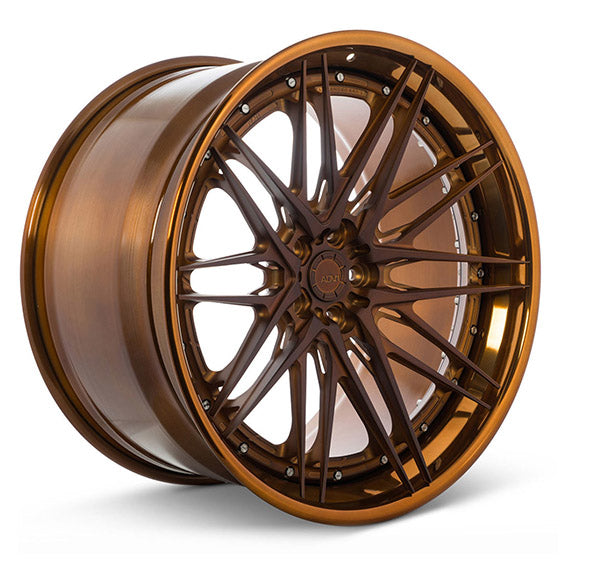 ADV.1 WHEELS - ADV10.0 TRACK SPEC ADVANCED SERIES
Item Specifications
ADV.1 WHEELS - ADV10.0 TRACK SPEC ADVANCED SERIES - 
* Price for Each Wheel *
Model Name:
  ADV10.0 TRACK SPEC ADVANCED SERIES CONCAVE
Available Sizes:
19", 20" 21", 22", 
Center Bore:
OEM Vehicle Specs 
Center Caps: 
Center Caps Included
Standard Finishes:
Gloss Silver, Matte Silver, Gloss Black, Matte Black, Gloss Bronze, Matte Bronze, Gloss Graphite, Matte Graphite
Brushed Optional Finishes:
 Gloss Brushed Aluminum, Matte Brushed Aluminum, Gloss Brushed Gunmetal, Matte Brushed Gunmetal, Gloss Brushed Liquid Smoke, Matte Brushed Liquid Smoke, Gloss Brushed Man Bronze, Matte Brushed Man Bronze, Gloss Brushed Champion Gold, Matte Brushed Champion Gold, Gloss Brushed Rose Gold, Matte Brushed Rose Gold, Gloss Brushed Cognac, Matte Brushed Cognac, Gloss Brushed Blue, Matte Brushed Blue, Gloss Brushed Tiffany Blue, Gloss Brushed Red, Matte Brushed Red, Gloss Brushed Rose Pink, Matte Brushed Rose Pink.
Bolt Pattern:

 
OEM Vehicle Specs
Offset: Offsets will be chosen by the manufacturer to ensure proper fender flush fitment.
*Please Email or Call
818-821-1112
if you would like to pick your offset. *
Quantity: Price for Each
Condition: 
Brand New *Build on order 6-8 weeks*
Availability: Please Email or Call 818-821-1112 to check availability 
The ADV10.0 is a new take on the classic mesh spoke design, essentially a layered split ten-spoke center with bold cuts for weight reduction and improved aesthetics. The ADV10.0 Advanced Series features bespoke design queues such as the advanced window pocketing, surrounding each spoke of this wheel design, creating a silhouette unique to anything currently in the wheel industry. Available in both 2 piece and 3 piece wheel configurations the ADV10.0 advanced series is aggressive enough for sports cars like the Porsche GT3 and Lamborghini Huracan, yet elegant enough for big body luxury cars such as the Mercedes-Benz S-Class, BMW 7 Series, Audi A8, Lexus LS, Bentley Continental GT and the Rolls Royce Wraith.
TRACK
SPEC ADVANCED SERIES FEATURES
3 PIECE FORGED / STEP LIP CONSTRUCTION
AVAILABLE IN DIAMETERS 18.0-22.0 INCH
WIDTHS RANGE FROM 4.5-13.5 INCH
AVAILABLE FOR ANY VEHICLE APPLICATION
EXPOSED OR HIDDEN HARDWARE OPTION
WEIGHT-OPTIMIZED
VEHICLE LOAD / GAWR SPECIFIC
CONFORMS TO GERMAN TUV REQUIREMENTS
6061 T6 TREATED FORGED ALUMINUM
IN HOUSE MACHINING / ENGINEERING / MILL PROGRAMMING
STANDARD TITANIUM HARDWARE