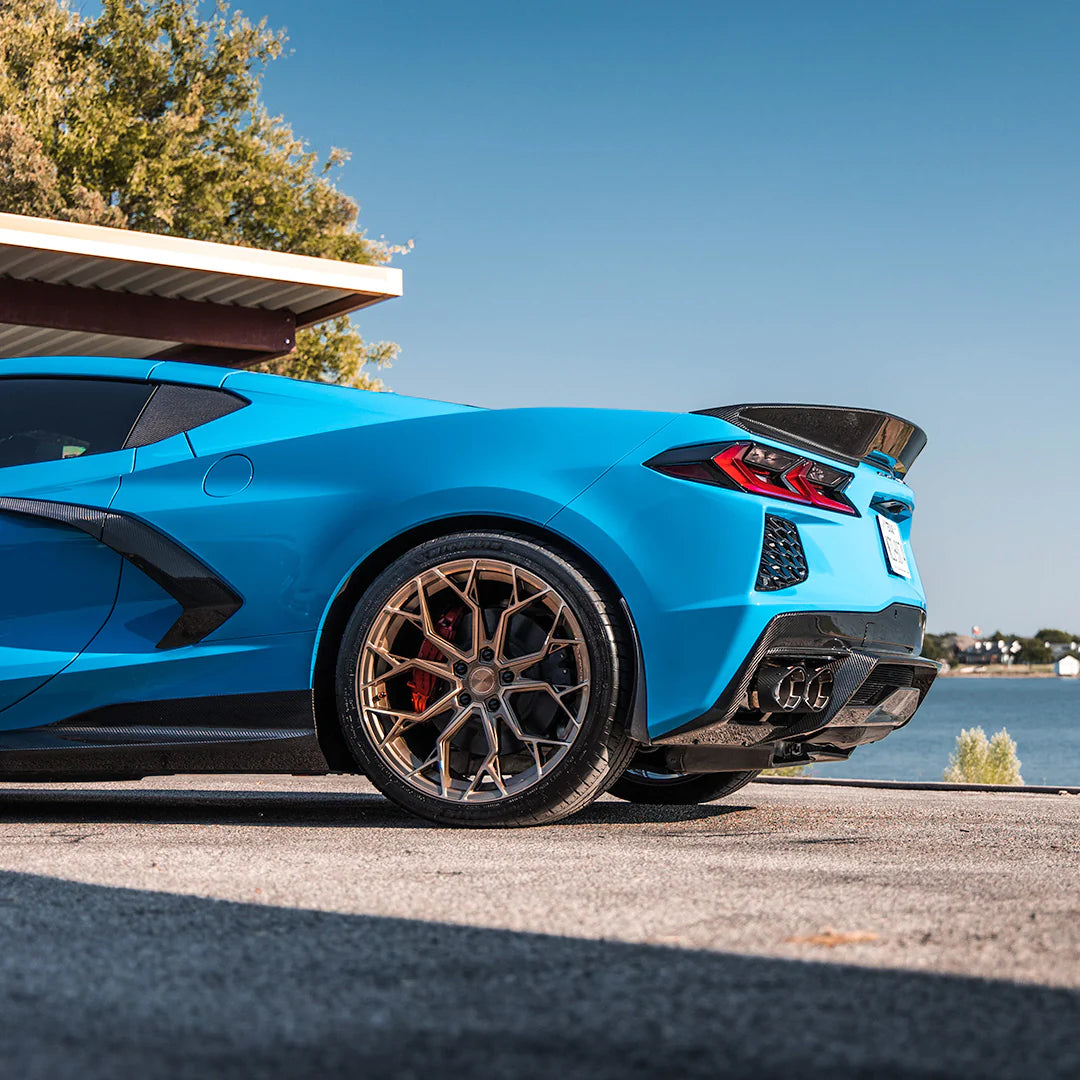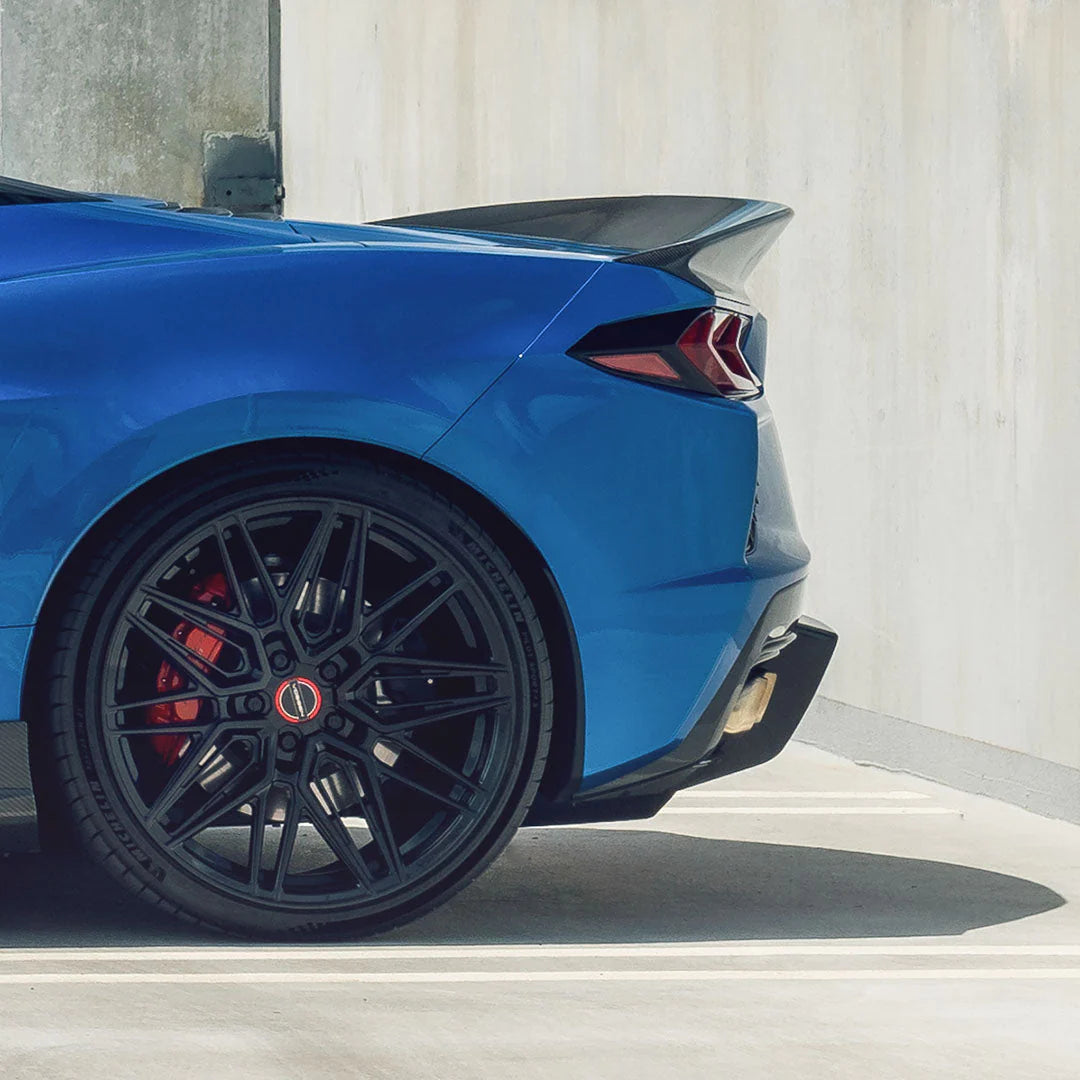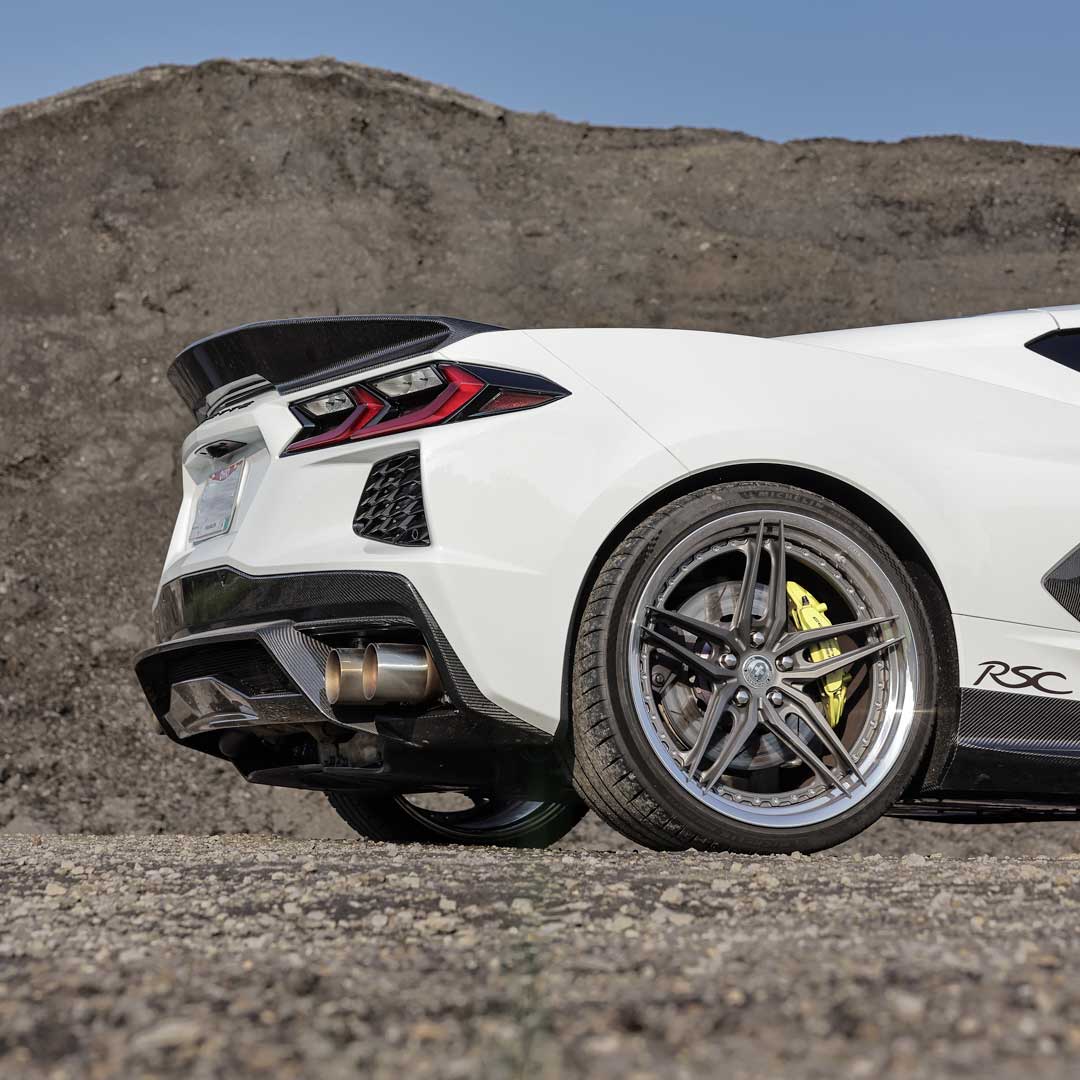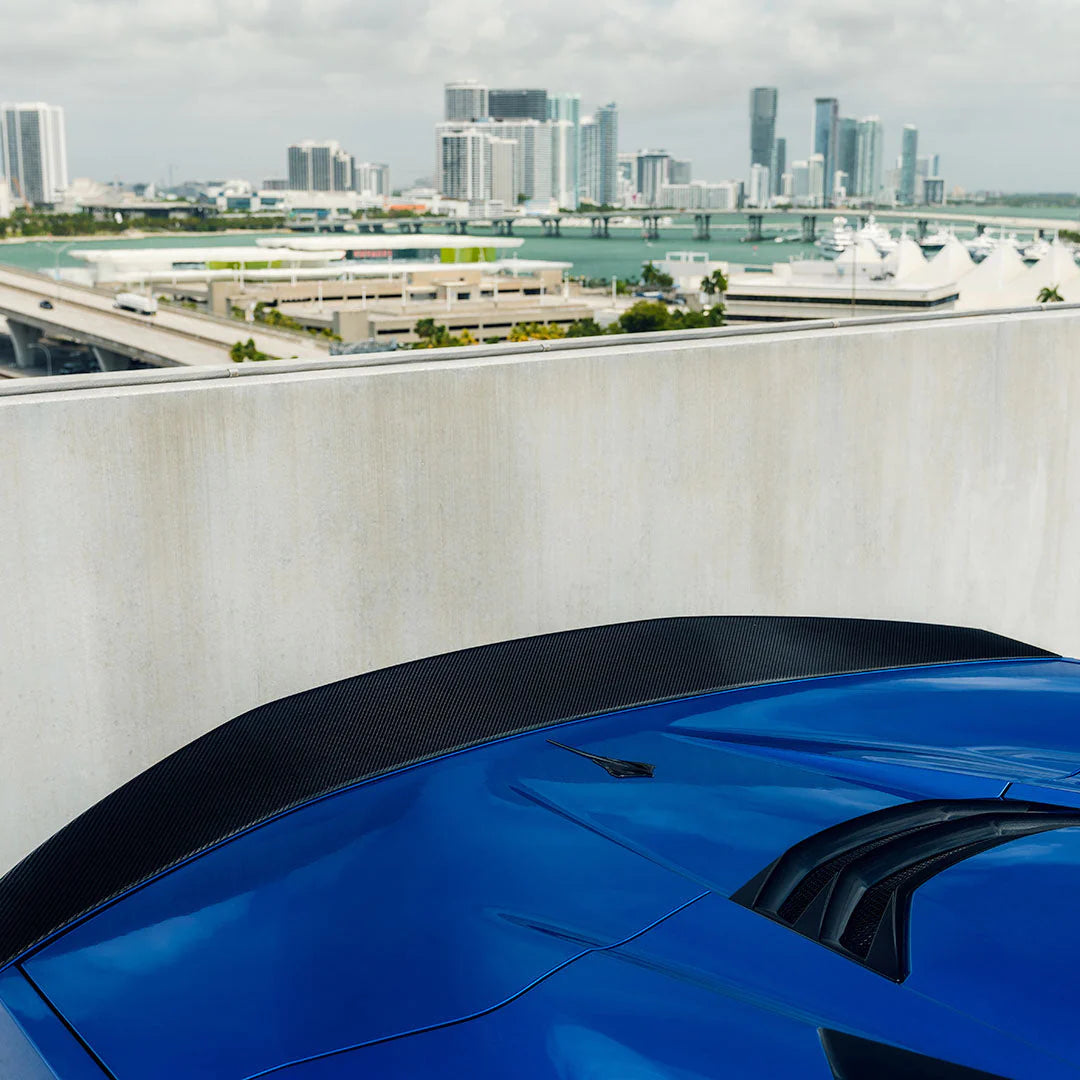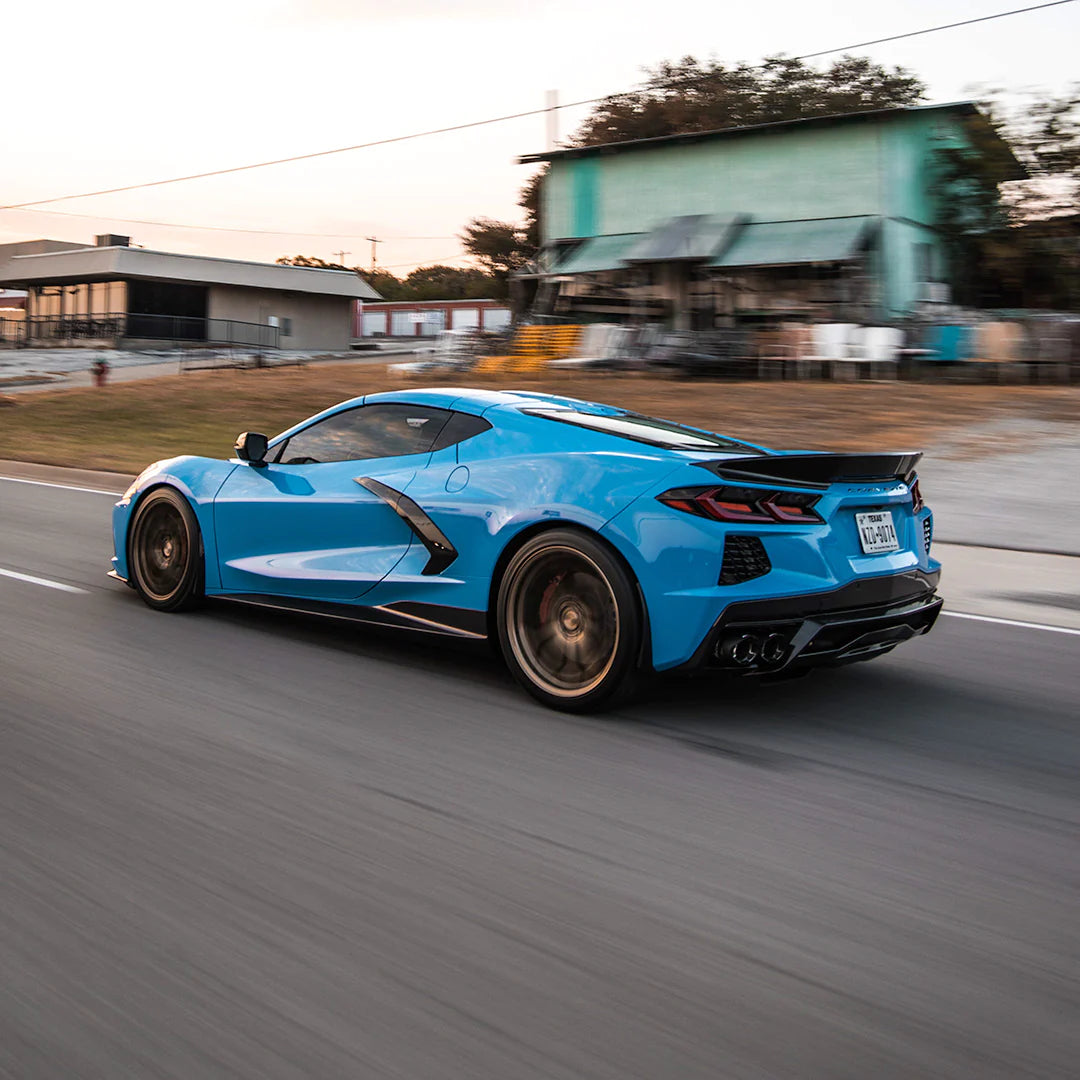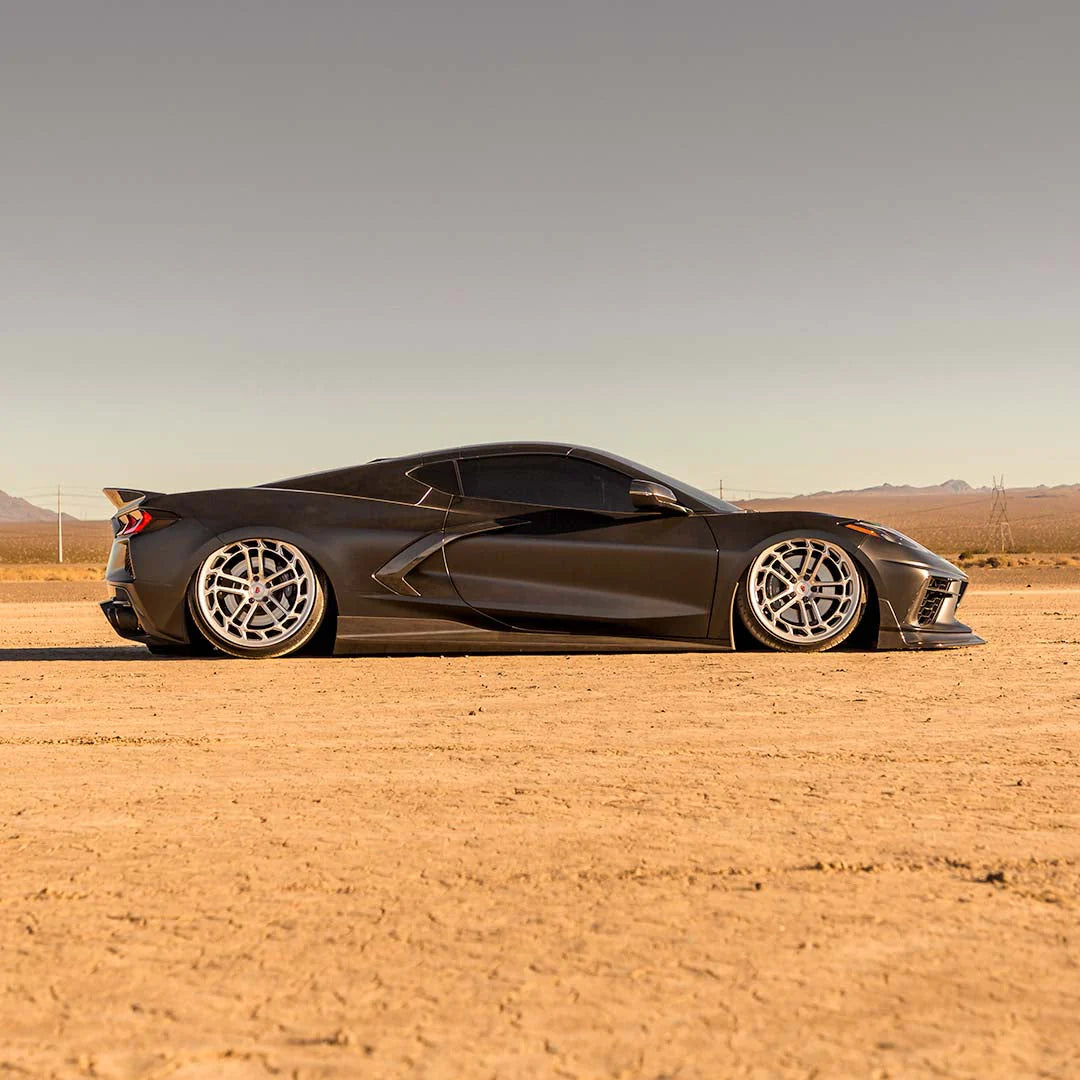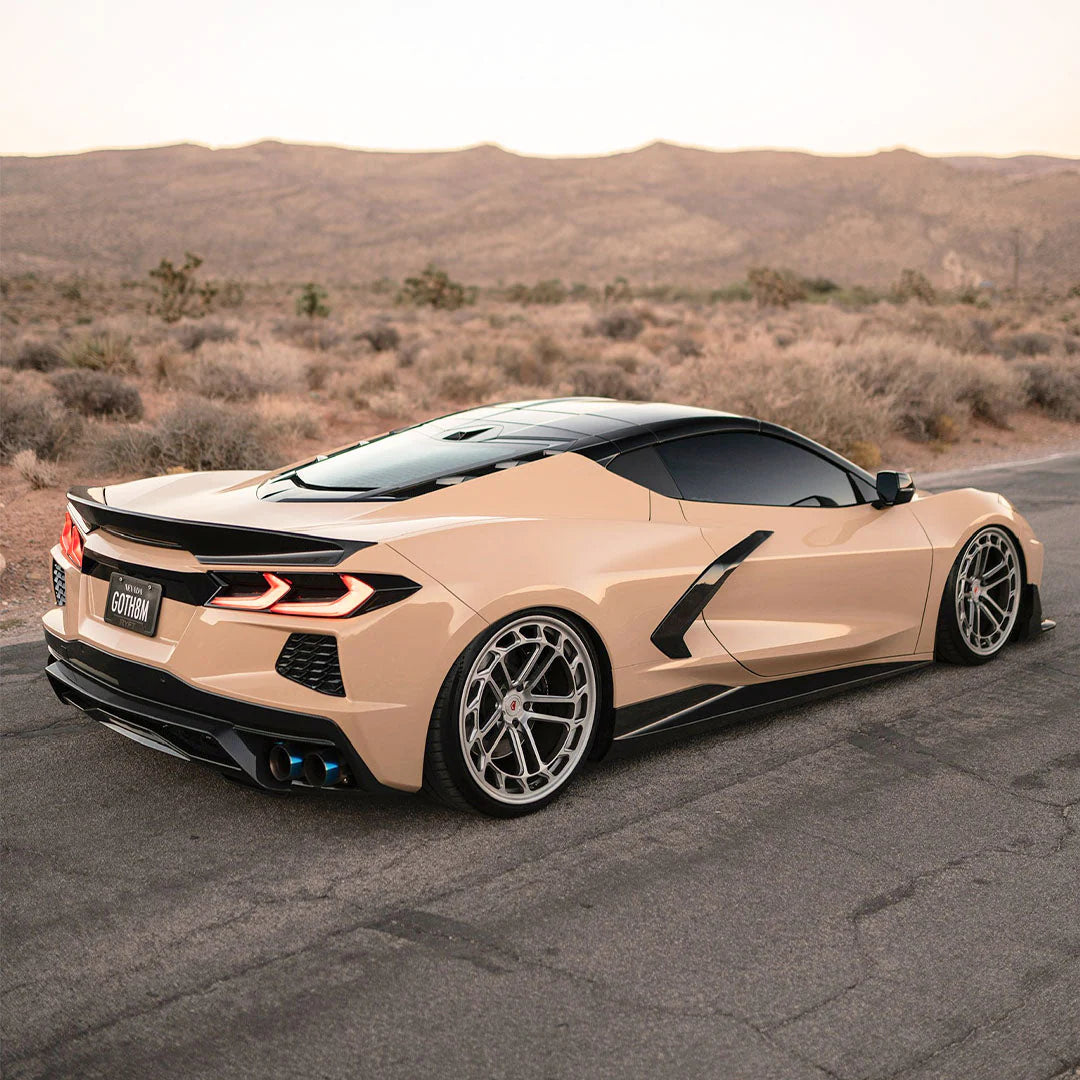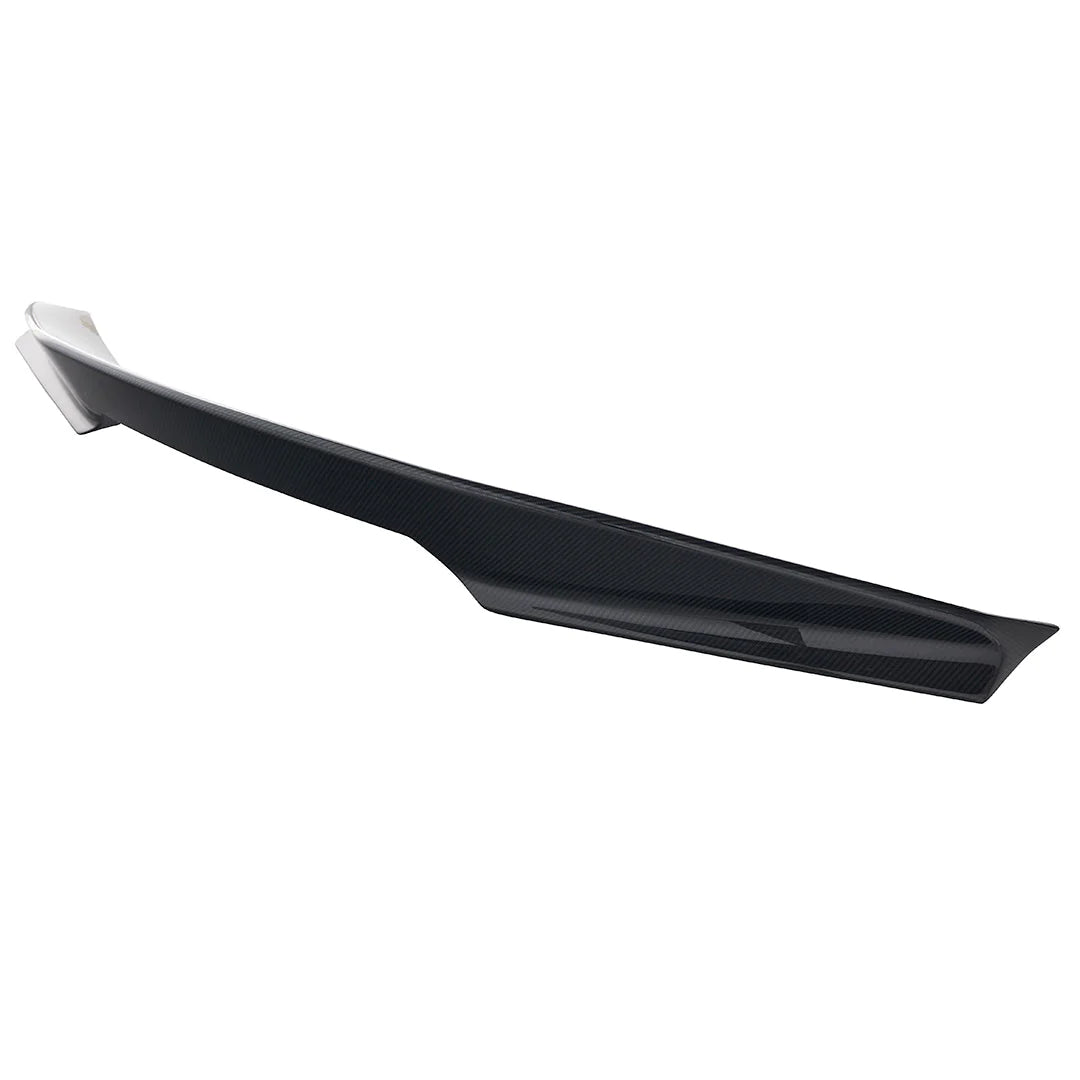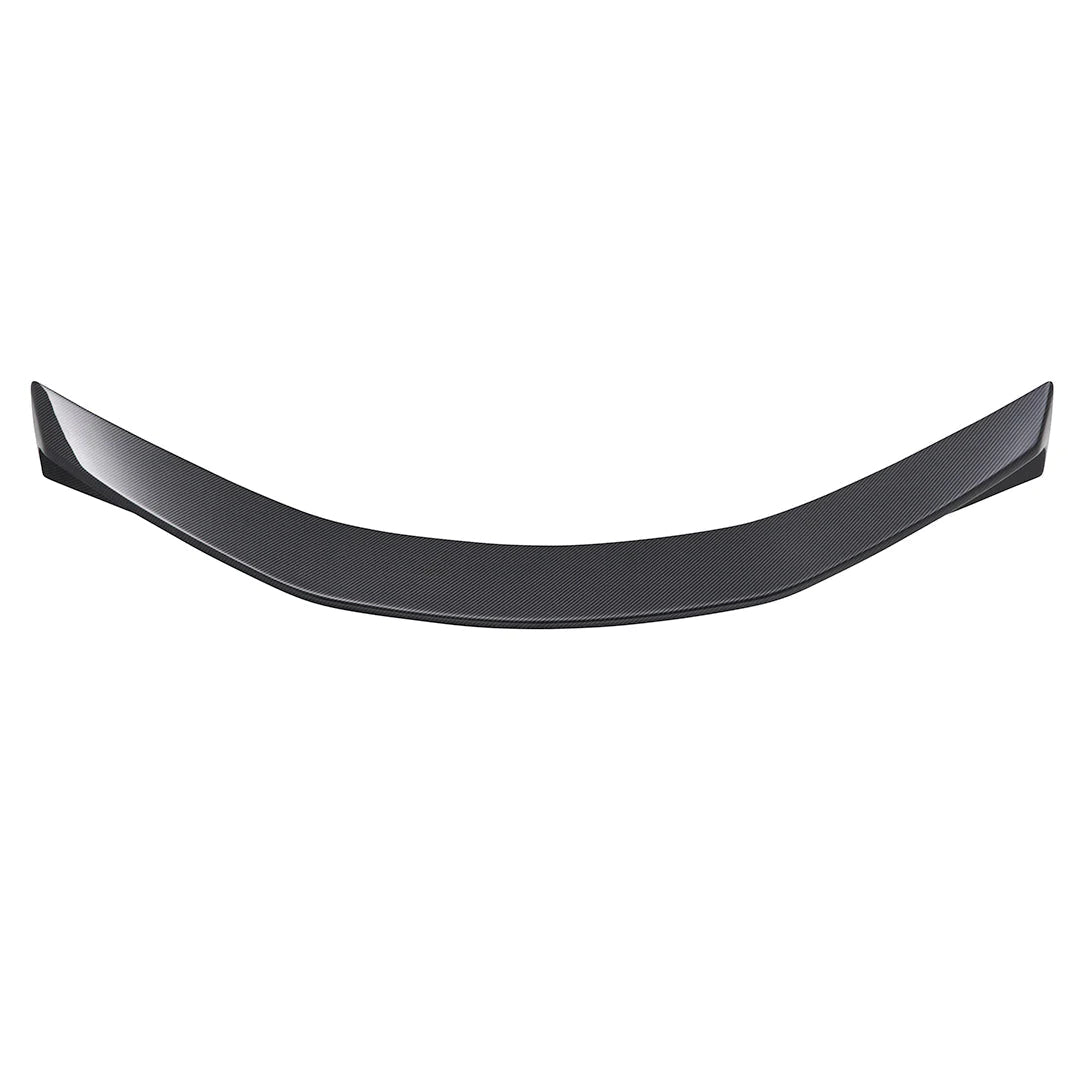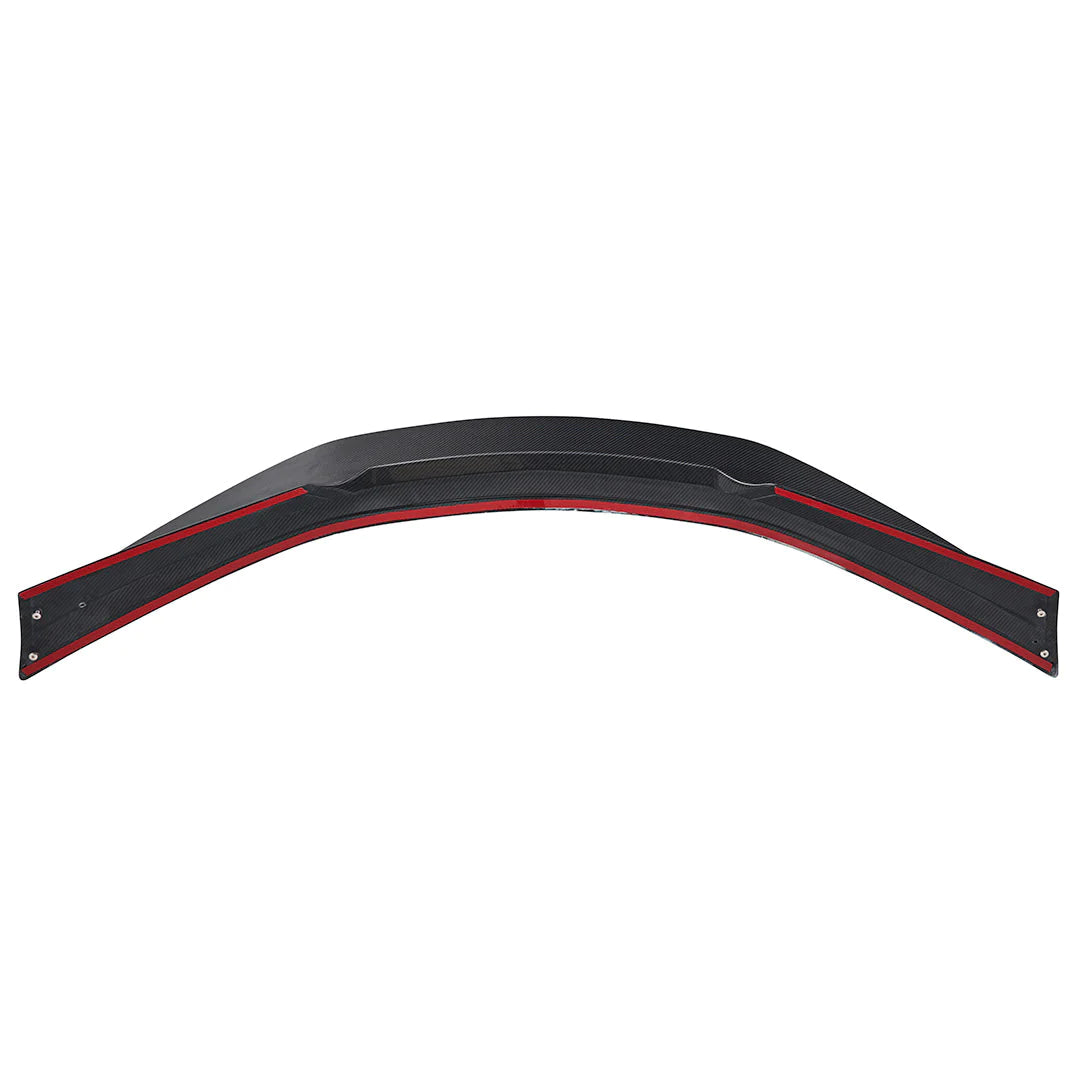 RACING SPORT CONCEPTS - DUCKTAIL CARBON FIBER REAR SPOILER FOR C8 CORVETTE
Item Specifications
Most Popular Aftermarket Spoiler for the C8 Corvette.
Fits All C8 Corvette Models (Z51 & Non-Z51).
100% Pre-Impregnated Carbon Fiber.
Covers All Existing Holes in Rear Bumper.
SUPIRIOR QUALITY & FINISH

Established in 2007, RSC have spent over 14 years cultivating long lasting relationships with the most talented Carbon Fiber manufacturers. RSC products are known for having the straightest and most imperfection free weave quality and consistency. RSC products feature a deep luscious clear coat finish that we know discerning carbon fiber aficionados crave for their C8 show cars. Made with same manufacturing process as RSC Lamborghini products; nothing else in the market compares to an RSC Ducktail Spoiler.
PREMIUM PRE-IMPREGNATED CARBON FIBER
RSC does not cut corners. All RSC C8 Products are not only made from the finest pre-impregnated carbon fiber (sometimes referred to as pre-dreg or dry carbon). Each product is then cured in state of the art autoclaves to product the strongest and lightest product possible. By utilizing autoclaves to ensure the weave is consistent throughout the part without the distortions commonly seen in low quality composites.
ENGINEERED TO PERFORM
RSC spent months designing the perfect carbon rear spoiler for your C8. Utilizing in-house rapid prototyping process to create over 15 different versions of this spoiler and test each of them on the C8 Corvette. Making multiple prototypes and designs to calibrate the proportions and volume of the RSC Spoiler to perfectly match your C8. The complex organic surfacing tools produce smooth curves with rounded edges that match the C8 OEM Design language. RSC valued clients tell us all the time that the "Love how this C8 Spoiler looks like it belongs on the car as opposed to an aftermarket product"
PRECISE FIT
RSC in-house development process has consistently resulted in the best fitting Carbon Fiber parts available for your C8 Corvette.
RSC scanning process is just the first step of many that differentiate RSC products from the rest. RSC consistently invests more time, more resources, resulting in more revisions of each product to continue tweaking and testing our designs until they have been perfected.
As a result, RSC products are in many cases the only aftermarket carbon fiber products installed by Chevrolet Dealers & End Users around the world.
REVERSIBILITY
RSC designed the C8 rear spoiler to install on C8 Z51 Models with no cutting or drilling or modification to the vehicle. The RSC Spoiler utilizes the outboard (2x) holes pre-drilled in Z51 models combined with 3M Double Sided Tape for added security. To uninstall just remove the 2 fasteners and separate the tape. Detailed installation instructions can be downloaded below.
2 YEAR WARRANTY 
Our product is the best because our clients tell us on a regular basis. RSC has been selling Carbon Fiber since 2007 and have the experience to ensure our products hold up. That is why we are one of the few companies to actually offer a warranty against defects or flaws in our products for 2 years. After which RSC will still work with clients on a case by case basis to resolve their issues
Manufacturer: Racing Sport Concepts
Model: Ducktail Carbon Fiber Rear Spoiler
Availability: Please Email or Call to check availability at 1-818-821-1112 | Info@Motorsportsla.com