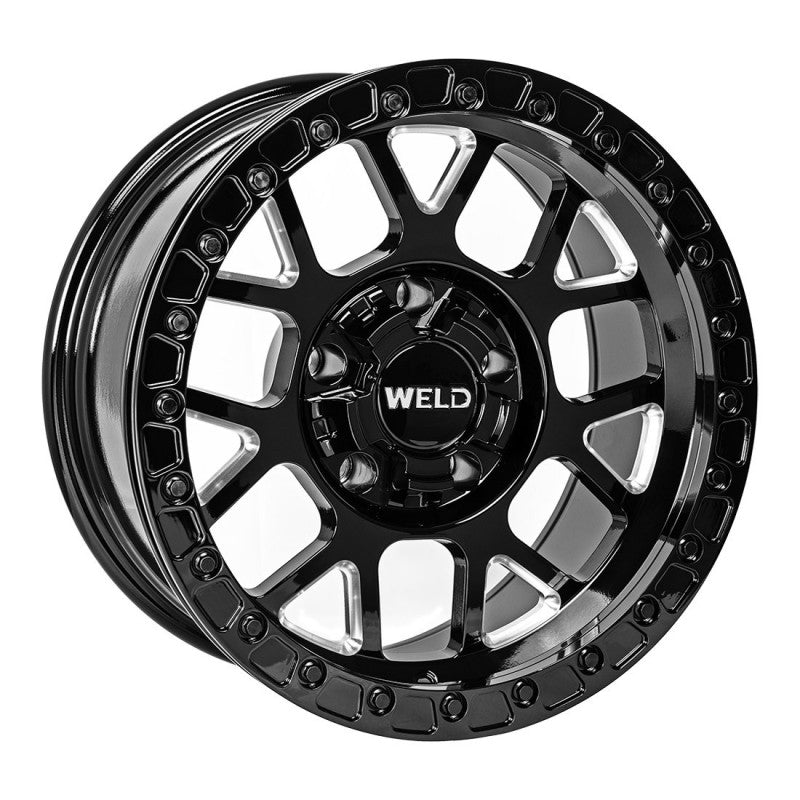 WELD Off-Road Cinch Beadlock W902 - Gloss Black Milled - 17"
Item Specifications
Brand:

 
Weld Off-Road Wheels
Model Name: Cinch Beadlock W902
Wheel Sizes: 17x9
Center Caps: 
Center Caps Included
Finishes: Gloss Black Milled 
Bolt Pattern:

 
OEM Vehicle Specs
Backspacing: 4.5"
Quantity: Price Per Wheel 
CINCH BEADLOCK W902
Gloss Black Milled
The Cinch Beadlock wheel brings all of our high quality on-road innovation to the dirt with a true off-road beadlock wheel for the hardcore off-road enthusiast. The Cinch's rotary formed construction makes for the ultimate lightweight and strong performance wheel. Every other window in the spokes retains a milled finish that is complemented by a chrome branded center cap. The 6061 forged alloy beadlock ring features strategic pockets for increased weight savings. Available in a multitude of diameters, widths and lug patterns, the Cinch is perfect for those chasing high performance thrills in the dirt, rocks, sand or mud.
Monoblock aluminum construction
Rotary formed construction technology for strength and weight savings
7-window design with embossed WELD center cap
Forged alloy beadlock ring
Gloss black milled finish