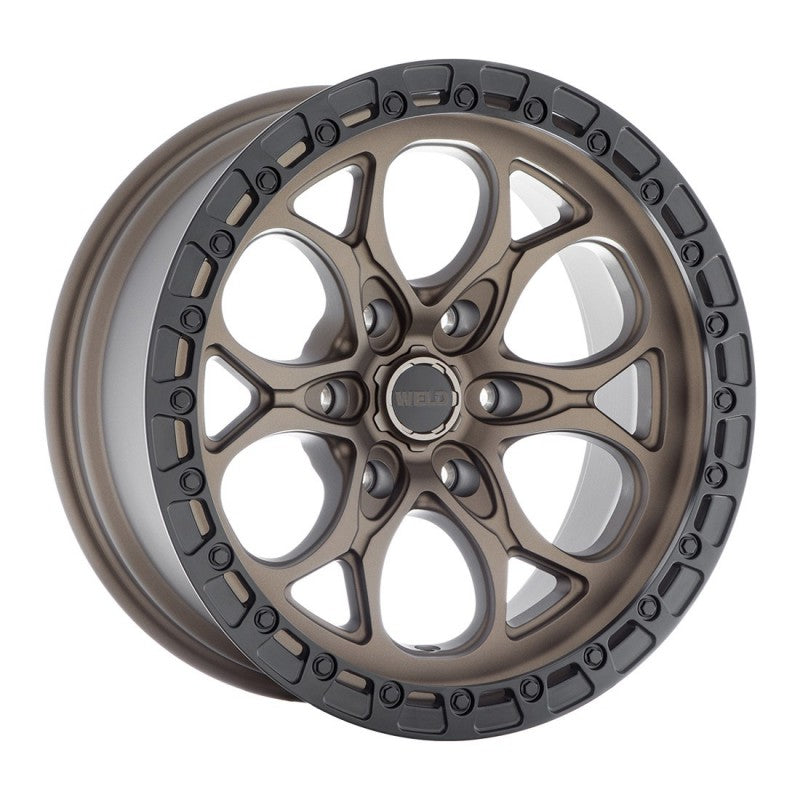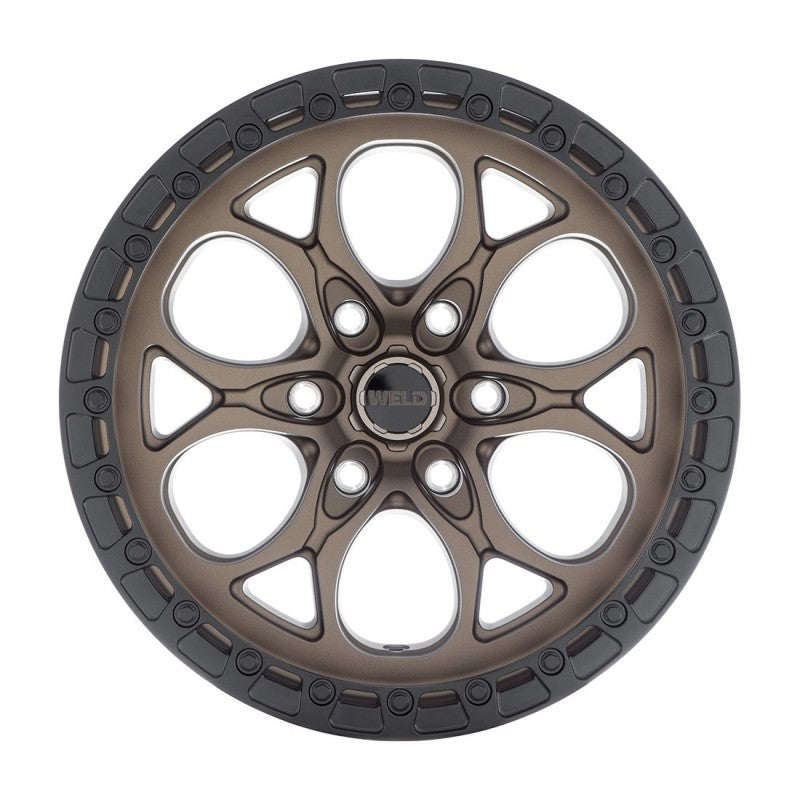 WELD Off-Road Ledge SIX W106 - Satin Bronze / Satin Black Ring - 18"
Item Specifications
Brand:

 
Weld Off-Road Wheels
Model Name: Ledge SIX W106 
Wheel Sizes: 18x9
Center Caps: 
Center Caps Included
Finishes: Satin Black / Satin Black Ring 
Bolt Pattern:

 
OEM Vehicle Specs
Backspacing: 4.5", 5" , 5.75"
Quantity: Price Per Wheel 
LEDGE SIX W106
Satin Bronze/Satin Black Ring
Standing out from a crowd of monochromatic truck wheels is the new Ledge Six 106, a 6 spoke wheel highlighted in satin bronze with a satin black simulated beadlock ring. This six lug off-road wheel is available in diameters of 17", 18", and 20" for popular truck applications such as the Chevrolet Silverado, Ford F-150, and Dodge Ram 1500. Simultaneously maintain an off-road look and street legality with a built-in simulated beadlock ring. Rotary-formed construction results in increased strength and reduced weight for performance both on and off-road. Its center cap is gloss black with a bronze WELD logo that stands out even behind dirt and mud.
1-Piece aluminum alloy
Rotary Formed construction for increased strength and reduced weight
Street-legal simulated beadlock ring
Satin Bronze finish
Satin black center cap face with bronze WELD logo
1-Piece aluminum alloy
Rotary Formed construction for increased strength and reduced weight
6061 Forged beadlock ring
Satin black finish
Grade 8 beadlock hardware with Zinc-Nickel plating for exceptional corrosion resistance
Gloss black center cap face with chrome WELD logo